« December 2005 | Main | February 2006 »
January 31, 2006
Maines' Mouth
Well, here's a big surprise: Dixie Chicks lead singer Natalie Maines has opened her big mouth once again...this time to Entertainment Weekly, who has published an exclusive interview with the outspoken chantreuse (view the entire article here). The following should in no way be taken as an indication that I am any less of a Chicks fan than I was in 1998...or 2003 (after "The Incident" - you know which one I'm talking about)....HOWEVER, when Maines states that she "did not grow up liking country music," well, I don't believe for a second that the daughter of Lloyd Maines didn't grow up liking country music. Please, Nat. You were right about George, not about this....
Posted by darlin at 8:27 PM
January 28, 2006
Iditarod vs. Idiotarod
The Iditarod. A dogsled race through the wilds of Alaska, wrought with history, danger, and tradition. Plus, it has cute puppies. Who doesn't love puppies?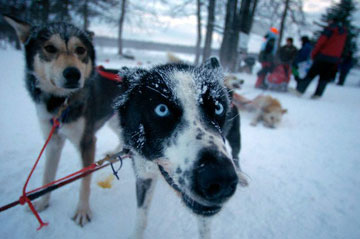 The Idiotarod. A race from Brooklyn to Manhattan with a bunch of crazy drunk people in flamboyant costumes attached to shopping carts and dragging the carts for the entire race. Who doesn't love crazy drunk people?
<
Why do I always miss the cool stuff? Why? WHY?! Get a load of some of these FAQs....
*Can we get drunk?*

It makes the pain go away.

*Are there rules?*

Yes, quite a few of them. For starters, four people must be attached to and running in front of the cart at all times. There will be referees along the route to disqualify cheaters. We'll release a more detailed list of rules a week before the event.

*Does my team need its own shopping cart?*

Yes.

*Where do we get a cart?*

Be resourceful.

*Are you suggesting we steal it?*

We didn't say that.
Posted by xx - Ms. Lauren - xx at 8:56 PM
January 27, 2006
Meet Luella
I'm excited. Really excited. With the excitement that I usually reserve for an amazing band or an After-Christmas Sale. Yes, that excited. You see, my favorite store Target, has just introduced "GO International," a fashion launch featuring a rotating cast of hot designers, each hawking their designer-turned-mass-merchandising wares for ONLY 90 days.

The first designer: Luella Bartley, whose style has been described as "punk meets preppy" and "girlish charm with rocker smarts." Think plaid skirts, skinny ties, rugby stripes, cherry print. Items are already up on the Target site for pre-order, which seems strange (pre-ordering things from Target!), but Target, who has done genius things with Isaac Mizrahi and their reintroduced, limited edition Fiorucci line, continues to surprise and delight me! Let's face it - the gulf between mass retailer Target and competitors Wal-Mart and K-Mart is so wide now, I don't see how the others can catch up! Now let's enjoy the ride as Target chases retailers H&M on a madcap romp through juniors fashion. This bargain-basement fashionista is ready to roll! I think you know where I'll be Wednesday. (Luella launches on Wednesday, February 1 at the Target near you).
Posted by DJWanda at 9:29 PM
January 19, 2006
PUNK ROCK BOWLING WEEKEND IS UPON US!
Wish Bad News Bowlers luck. Join us at the Double Down on Sat. Night in Vegas for our Pre Anniversary Party with Alex's Bar featuring Tijuana Knife Fight, The Irish Brothers, and Drag the River.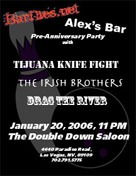 Posted by Tinkinator at 10:39 PM
January 8, 2006
I Love Rock and Roll
And for that reason I promise I will get my review of Joan Jett at the OC New Year's Eve festival up before the month is over. I promise.
Posted by DJWanda at 1:47 AM
January 6, 2006
The Spores at The Viper Room
Alex and I used to get tons of cds and emails from bands wanting to the play the bar. When we received info from The Spores, Alex got very excited. After The Spores first gig at Alex's, I got very excited. Not only does the band play lovely, dreamy, desert rock, but their visuals both on stage and in their flyers are lovely.
Now that I am studying in the land of VERY LITTLE ROCK 'N' ROLL, aka Dublin, Ireland, I await for the visually intriguing Spores' show announcments in my email box. Go see 'em. Sign up for their mailing list so you to can get great art treats disguised as show flyers in your email box.
Posted by Ms. Jen at 7:17 AM
January 1, 2006
Happy 2006 from Barflies.net
Sun. Jan 1, 2006 - Happy New Year from Barflies.net! I hope all is well and that you are thoroughly enjoying the first day of the New Year!
Posted by Ms. Jen at 9:14 AM | Comments (1)