« September 2003 | Main | November 2003 »
October 31, 2003
Creative Memories?
A good friend of mine has just started working as a Creative Memories representative. For those of you who have been living under a rock, Creative Memories is a "photo preservation system" where people make these really elaborate, mostly cheesy photo albums with themed pages, stickers, frames, borders, etc. It's also a humongous home-based business along the lines of Avon or Tupperware. So, I'm thinking - I'd love to do some albums of all my friends, using old flyers, ticket stubs, buttons, and other junk. But where are the "punk" themed pages? Most of the Creative Memories stuff is happy animals and holiday junk. Ducks wearing bonnets. You get the picture. If anyone knows of an alternative, please let me know!
Posted by DJWanda at 9:26 AM | Comments (4) | TrackBack
October 30, 2003
October 31st Film Releases
This week is a mixed bag at best. On one side we have our obvious Oscar contenders (The Human Stain, Shattered Glass), on the other side we have the boring run of the mill, love your fellow man (or beast), Disney craptoon (Brother Bear), then we have the third dimension of the purely bizarre (Die Mommy Die, Dirt), and THEN we have the stroke-the-director's-ego re-release of a classic sci-fi horror epic (Alien).
My picks for the week are as follows:
1) The Human Stain
2) Shattered Glass
3) Die Mommy Die
And, if all else fails -- Alien (it is Halloween isn't it?)
Oscar season has been here for a few weeks now and the studios are slowly releasing the quality films that they've been hoarding all year. One by one. Cell by cell. It's as though we've been starved all year and they can't give them to us all at once or we'll die from our own gluttony (but they're the cruel masters who starved us in the first place). No justice, no peace! Just give us the films worth seeing!!!!
Back to the task at hand:
The Human Stain
What is a poor discredited aging college professor to do? Well, if you're Anthony Hopkins and your cleaning lady looks like Nicole Kidman, you have yourself a darn good time. But, some good things just aren't meant to last. Just ask Nicole's abusive ex-husband, Ed Harris.
Good cast, mysterious story line (but if you read enough of the reviews you can figure it out), and a two-time Oscar winning director. Looks like it might be worth my $10.
Alien: The Director's Cut
The movie that made you freak out every time you had a bad case of gas is back. Digitally remastered with extra footage and our favorite acid dripping queen. Don't worry; it'll be out on DVD before you know it.
Brother Bear
So sweet it'll make you want to gag (and then go hunting).
Shattered Glass
Steven Glass is journalism's latest prodigy. A contributing writer for Rolling Stone and a staff writer for the New Republic, all at the tender age of 25. But this little turk gets his comeuppance when it turns out that he may have fibbed a little on a couple of his stories. Okay, okay - 25 out of 27 of his articles may be complete works of fiction. So he cut a few corners, can you blame a lazy Gen X'er?
Hayden Christensen (otherwise known as the future Darth Vader) may actually have an ounce of acting talent (I had my doubts after the last Star Wars installment). Another possible candidate for my $10.
Die Mommy Die
When a Hollywood producer dies of mysterious causes, his transvestite wife is always the first to be blamed. So typical.
This 50's melodrama inspired comedy stars Natasha Lyonne (one of my favorite indie starlets) and Jason Priestley (will he ever live down 90210?). Could be fantastic, could be horrible. Let's go gambling.
Dirt
I haven't heard anything about this film, nor have I seen an ounce of footage even resembling a trailer. But, the premise looks interesting.
Two brothers in Texas decide they need the presence of the fairer sex in their lives after their mother dies. The stripper doesn't work out, so they kidnap a grocery clerk and go on a crime spree. Mamma would be proud.
This is an even bigger gamble.
Suspended Animation
I've seen the trailer, and trust me, it isn't worth writing about. Move on.
Posted by xx - Ms. Lauren - xx at 9:16 PM | TrackBack
Punk Rock Craft Fair

"Hippi3 ti3-dy3 dreamcatch3r crap need not apply. "
(words have been changed to protect the sanity of our blog tools)
Sunday, December 14 2003 3-9 pm
Q-Topia
6021 Hollywood Boulevard
Hollywood, CA 90028
Also in Boston, December 13.
Posted by Lucky at 4:14 PM | Comments (3) | TrackBack
October 29, 2003
Shock-O-Rama 2003
Friday November 21, 2003 7pm
Vine Theater
6321 Hollywood Blvd, Hollywood CA
$15 adv/$20 door

Freaky films, bands & burlesque all-nighter
Featuring Gitane Demone, Penis Flytrap, and Dirty Sanchez
Mistress Persephone, Julie Strain
"Los Angeles, CA---November 21-22, 2003---Los Angeles-based Anxiety Films is at it again, scheduling their third annual "Shock-O-Rama-A-Go-Go" 24-hour film-a-thon...

...for November 21-22, 2003. The festival will take place at the Vine Theatre (6321 Hollywood Blvd) in Hollywood, CA. Doors will open at 7pm on Friday night and won't close until at least 2 A.M. on Sunday morning. Bursting at the seams with celebrities and extravagant perquisites (including a chance to ogle the luscious girls of Suicidegirls.com, Mistress Satanica, and the lovely Julie Strain), this year's Shock-O-Rama will be hosted by Sham "The Famous Hooker," and Count Smokula. Other guests include: DON EDMONDS (Ilsa: She Wolf of the S.S., Ilsa: Harem Keeper of the Oil Sheiks), TED V. MIKELS (Blood Orgy of the She Devils, Doll Squad), JULIE STRAIN (The Rowdy Girls, Sex Court) and a number of additional surprise guests to shock and astonish you. Friday night will feature this year's hottest B-movie bands, and Saturday night will feature the hottest Burlesque show in the world. More than twenty films will be presented, including our "Gross Out Shorts" program. "Midnight Movie" devotees will welcome old favorites such as: Ilsa: Harem Keeper of the Oil Sheiks, Basket Case, Doll Squad, Eaten Alive, Zombie Holocaust, Two Orphan Vampires, and Beyond the Valley of the Dolls. The discerning moviegoer will thrill at the chance to see the world premiere of Flesh for the Beast on the big screen. Those who loved ED WOOD long before his recent resurgence in popularity won't want to miss the classic Glen Or Glenda. And don't miss our "Asian Invasion" with such flicks as Battle Royale, Versus, and many, many more. Prizes and giveaways from select sponsors will be in high demand. A wide array of DVDs, videos, t-shirts, buttons, and an abundance of other B-movie and horror movie merchandise will be available for purchase. And, of course, all attendees are strongly encouraged, but by no means required, to come in costume. Saturday night will feature a "Come dressed as Bettie Page" costume contest, with a prize, to benefit those who dare to lobby against laws restricting Lap Dances at Strip Clubs. -more- 2001's Shock-O-Rama-A-Go-Go was described as a "messy," "frightening," "eerie," "rude, unruly, and anarchical," "nonstop… scarathon" by the LA New Times. L. A. Weekly called "Shock-O-Rama" a "grueling gross-a-thon" that "didn't disappoint, especially when the overnighters, sipping alcohol out of colostomy bags, began to talk to the screen a la Mystery Science Theatre 3000." And surely this politically troubled year will unearth veritable legions of movie buffs eager to, as the LA Downtown News quoted Anxiety Films' president ERIC S. EICHELBERGER as saying, "get their aggression out along with their fill of blatant sex, violence, and ultimate gore." Those esoteric souls who do feel the need to question (but not countermand) their eccentric and violent tastes will have the opportunity to stimulate their brains in a series of lectures and subsequent Q-and-A sessions with the festival's special guests. Don Edmonds will be on hand to discuss his latest projects, his fascination with Nazi Women, and his upcoming project with Dave Friedman. Ted V. Mikels will give it to us with his analysis of the exploitation girl-gang flick. Julie Strain will tell us about her latest involvement with TROMA's upcoming "Tales From the Crapper" and her film "Blood Gnome." Finally, if you've had enough of talk and are ready for some action, then thrill to the rocking B-Movie bands who will be thrilling you on Friday Night! Prepare yourself, because after Friday's "Asian Invasion" has got you worked up to a frenzy, Saturday night Mistress Satanica, The Fishnet Floozies, the girls from RolleyDerby, The Suicide Girls, and Sweetloaf will thrill us with the hottest Burlesque show this side of a Texas Topless Hootenanny. Shock-O-Rama tickets start at $15 in advance, but will be available at the door for $20—however, it is strongly suggested that you purchase your ticket in advance, as this event is expected to sell out. Tickets can be purchased at www.anxietyfilms.com and will also be available at Aron's Records in Hollywood. Ample parking is a mere $5, and is located across the street. Guests are encouraged to bring sleeping bags and pillows. Guests are also encouraged to "Audience Participate" or as Anxiety Films' organizer Eric S. Eichelberger like to call it "yell insults back at the screen a la Mystery Science Theatre 3000." Those looking for a very quiet, serious cinema experience of quality Hollywood Studio films are strongly encouraged not to attend. For more information, email Anxiety Films at info@anxietyfilms.com or call (323) 666-2871, or visit http://www.anxietyfilms.com.

SCHEDULE: Friday November 21, 2003: 7 PM Doors Open, Prizes for early-birds, giveaways for "Flesh For The Beast" West Coast Premiere 7:30 "Flesh For the Beast "West Coast Premiere! 9PM "Ilsa: Harem Keeper of the Oil Sheiks Screens" (35mm print) Introduction by director Don Edomonds, Q and A following the film 11PM Gitane Demone, formerly from "Christian Death" performs LIVE on stage with her new band! 11:30 PM Penis Flytrap performs LIVE on stage Saturday, November 22, 2003: 12:00 AM Dirty Sanchez performs LIVE on stage (tentative) 12:30 AM Asian Invasion Begins! 12:30 AM "Versus" (from 35 mm print) 2:00 AM "Battle Royale" on the big screen! 3:30 AM "Eaten Alive" 5:00 AM "Zombie Holocaust" 6:30 AM Ed Wood's "Glen Or Glenda" 8:00 AM Jean Rollin's "Two Orphan Vampires" 9: 30 AM Breakfast Break! 10: 00 AM Horror Shorts Program (Independent Horror Shorts!) 11:00 AM "Teenage Tupolo" (A dirty Burlesque freakshow by John Michael McCarthy) 12:30 PM "Fear of a Limp Planet" (Planetary Premiere!) 2:00 PM "Blood Gnome" w/ Julie Strain (World Premiere) Intro by Julie and Lizzy Strain, Q and A following the film with Julie and Lizzy Strain! 3:30 PM "Death Bed: The Bed That Eats" 16mm Print! (World Premiere) 5:00 PM "Basket Case" with Frank Hennenlotter's blessing! 6:30 PM "I Drink Your Blood" With introduction by director, Q and A afterwards (tentative) 8:00 PM "Doll Squad" 35mm print (only one in known existence) Intro by director Ted V. Mikels, Q and A after the film, Ted V. Mikels will be on hand to sign autographs after the screening! 10: 00 PM "Burlesque-O-Rama" Your MC, erotic ultra-vixen MISTRESS PERSEPHONE. With Sweetloaf, Mistress Satanica, Fishnet Floozies, B-moviegirls, and the Suicidegirls from Suicidegirls.com (tentative) 11:00 PM The Sharp Ease (From Los Angeles) 11:30 PM T.V. Sheriff (tentative) 12: 00 PM "Beyond the Valley of the Dolls" 35 mm print! Subsequent Q and A with some of the original cast members. 2:00 AM After-Party with booze at undisclosed location! Very important, If you are planning on bringing booze to the event, be discreet, this is privately owned theatre. The management doesn't like booze. This isn't the Downtown Palace. If you plan to bring booze, my suggestion is this: Bring a flask, buy a soda, dump the flask in your soda, and go to your car and refill the flask. I stress this. If you want to drink, please be discreet. I don't want people to get busted by the management of the theatre. Also, very important: Audience participation is encouraged! Bring pillows and sleeping bags! If you are looking for a quiet movie going experience, please don't come here, we will not be issuing refunds. Also, also very important, films that are not listed as screening from prints are screened from DVD. The reason we do this is A) to keep costs down and B) Because with a platter projection system you can show a maximum of 6 prints in a 48 hour period. THANKS! Buy tickets NOW!! at http://www.anxietyfilms.com"
Posted by Lucky at 12:00 PM | TrackBack
October 28, 2003
Halloween Haunts
Throwrag, Aug. 14, 2003 at the El Rey, photo by
Ms. Jen
Halloween this year in SoCal / LA area is shaping up to be extra scary with our world on fire and a week of ashes floating through the air, but relief is on the way with cooler temps, a possibility of moisture, and an amazing line-up of Halloween night live music shows and concerts:
-*-*-
Big Sandy & The Fly Rite Boys, Sleazy Surfers - Halloween Costume Contest @ Doll Hut, 714-533-1286
Busstop Hurricanes @ Continental, 714-526-4529
Flogging Molly @ House of Blues - Anaheim, 714-778-2583
Me First & the Gimmee Gimmees on the Jimmy Kimmel Show (find a TV)
Queens of the Stone Age, The Cramps, Tomahawk, Masters of Reality @ Greek Theatre, 213-480-3232
Throwrag, Menace - Halloween Ball @ Alex's Bar, 562-434-8292
Truly Lover Trio @ Purple Orchid, 310-322-5829
Thursday, Thrice, Coheed and Cambria @ Hollywood Pallidium, 213-480-3232
Velvet Hammer Burlesque @ Derby, 323-663-8979
-*-*-
DJ Wanda, David Irish, and I will be at the Throwrag Halloween Ball at Alex's, and Ms. Lauren will be attending the Velvet Hammer Burlesque at the Derby. Anyone else?
Posted by Ms. Jen at 11:40 PM | TrackBack
October 27, 2003
"This is not a haunted house..."
...but a living exhibition of the degenerate soul."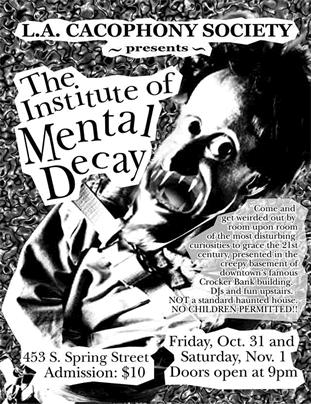 If the average boo-hoo haunted house just doesn't cut it for you, if you truly need something depraved, then the Institute of Mental Decay, sponsored by the Los Angeles Cacophony Society looks to be severely disturbing. They're still looking for participants, so if you have any "medical fetishes, animal costumes, castration fantasies or hospital equipment", they neeeeed YOU. They're also looking for anyone "born with a tail" and "as many monkeys as we can find"....
Happy Haunting! Bwahahahahaha........

Posted by Lucky at 5:51 PM | TrackBack
October 26, 2003
Sausage Festival!
Ok, Ladies, I am paging all the Ladies... or Women... or Chicks... or Girls....
The last four or five times I have been to the Doll Hut it has been a Sausage Festival. Yep, men everywhere. At least 6 - 9 men to every woman. Punk rock night, rockabilly, surf, DJ night, psychobilly, whatever the music playing. Men everywhere. Punk rock boys, greaser boys, Butterheads, cholos, skins, even a few normal type males looking a bit out of place...
If you are single and female, the Doll Hut is the place to be. As Wanda likes to say, "The odds are good, but the goods are odd."
Posted by Ms. Jen at 12:32 AM | Comments (2) | TrackBack
October 23, 2003
October 24th Film Releases
Movies coming out this week that are either:
a) Worth paying $10 to see in a theater, or
b) Worth illegally downloading off the net (I have no idea how, but I hear it can be done).
In order of preference:
1) Elephant
2) The Singing Detective
3) Kill Bill(its still out and its still amazing)
Let's see what the movie-making establishment has to offer this week for our discriminating pleasure:
Scary Movie 3
Yes, another parody. But, its written by Kevin Smith (for all you "Clerks" freaks out there like me) and directed by David Zucker (I am serious and don't call me Shirley). Possibly worth seeing on cable in a few months, but worth my $10, no.
Radio
Yes, another retard movie. I saw "Rainman" and "Forest Gump," I'm through with the mentally challenged.
Beyond Borders
Angelina Jolie - Once married to a guy named Billy Bob. Don't waste your time.
In The Cut
Meg Ryan only makes a decent film when Tom Hanks is there to make it bearable. Tom ain't in this one, pick something else.
The Singing Detective
50's comedic noir. Can you even have comedic noir? The trailer looked interesting, and despite Mr. Downey Jr's chemical dependencies I actually like him as an actor. This could be worth seeing. Good for a romp, not exploring the depths of the human soul.
Elephant
Gus Van Sandt won the Palm de Or in Cannes for this film. Its about a school shooting and is supposed to be very disturbing. No known actors involved. If you're going to see a movie this weekend, see this one. But I warn you - it's not an upper.
Posted by xx - Ms. Lauren - xx at 8:44 PM | Comments (1) | TrackBack
October 22, 2003
Too Much of a Stretch?
According to the Wall Street Journal, companies are offering yoga to their employees on site, recognizing the benefits of keeping everyone in an asana-induced state of Zen. I find this hard to believe, since at my company, you're lucky if you can leave your desk for a glass of water! Who are these companies so that I can go work for one?
Companies Say Yoga Isn't a Stretch
Wall Street Journal (10/14/03) , P. D4; Forster, Stacy
Companies are beginning to subscribe to the benefits of yoga in the workplace, claiming that employees opting to use breaks for office yoga reduce their stress and tension levels and improve their concentration. Some are hopeful that office yoga will reduce health care costs for companies, as many set up yoga rooms in empty offices. Katz Media pays an instructor to teach office workers yoga during the day in its conference room, and employees are appreciative of the company's efforts. According to Yoga Journal, about 7 percent of the American population practices yoga, and many others are willing to try it, but critics are worried that it will be hard to gauge the impact of the exercise on the workplace and productivity. However, companies continue to opt for the service, and insurance companies are beginning to cover the services under alternative medicine coverage.
Posted by DJWanda at 6:26 PM | Comments (2) | TrackBack
You Want Fries with That?
From the September 2003 issue of Training+Development:
"Intel, Wayport, and McDonald's recently announced plans to enable San Francisco-area locations with Wi-Fi in earnest. ... earlier this year, a select group of New York locations were set up wtih Si-Fi on a trial basis, but the Bay area rollout will be more comprehensive, with some 75 locations being wired for 802.11b technology. Wayport, which is providing the hotspots, is also considering future rollouts of 802.11g or 802.11a.
Pricing is reasonable at $4.95 for two hours of use. Locations will range from 12 in San Francisoco to six in San Jose, as well as parts in between. Locations equipped with the service will bear Intel's new Centrino logo."
Posted by DJWanda at 3:43 PM | TrackBack
The Odds are Good...
For all the single ladies out there... turns out California is the right place to be to meet men, since men outnumber women here in SoCal over any other place. It's like I always say... the odds are good but the goods are odd!
SAN FRANCISCO, Oct. 21 — Go West young woman, especially if you're single and looking for love. And if you're serious about seeking a male mate, go to Orange County or Silicon Valley — two areas with cities where, in an unusual twist, single men outnumber single women."
Read the full story.
Another excerpt:
"The other four California cities were immigrant magnets — Santa Ana, Salinas, Oxnard and Costa Mesa — which naturally attract male laborers, many of them single, foreign-born Hispanics."
Posted by DJWanda at 12:41 AM | TrackBack
October 19, 2003
Hacienda Brothers Sunday!
I just got back from the 2nd Sunday afternoon/evening of the Hacienda Brothers - featuring Dave Gonzalez of The Paladins and the SoCal famed Chris Gaffney - at the Doll Hut. The Hacienda Brothers played roarin' honky tonky and old time country music. A true delight to the ears on a Sunday afternoon.
The Hacienda Brothers will be back at the Doll Hut next Sunday the 26th of October and again on Sun. Nov. 23rd with The Paladins for a Doll Hut Benefit just before Thanksgiving.
Posted by Ms. Jen at 10:21 PM | TrackBack
October 17, 2003
Canadian Concert Riots = Horrible Canadian Female Singer Ads???
Last week we introduced Google Text Ads on various pages of the Barflies.net to help pay for our server fees. Google uses their marvelous keyword search power to deliver relevant text ads on sites using the text that is on the actual page.
Most of the text ads served have been very appropriate, like links to Meteors CDs, Duane Peter's label Disaster Records, Punk CDs, etc.
Two days ago when Ms. Alex posted about the Exploited / Total Chaos riot in Canada, all the sudden Google started serving ads for a certain barfy Canadian pop chanteuse who now lives and sings in Las Vegas and whose name I won't use for fear of more text ads to her. Exploited Riot = watered down old folks pop????
This is F**kin funny... Google, give us more Duane, Wattie, and decrepit tattooed punk rockers!
Posted by Ms. Jen at 10:01 PM | Comments (5) | TrackBack
October 15, 2003
Concert-goers riot after show canceled
I heard about this on the news this morning and figured it was just a certain horrible Canadian singers* fans gone rabid.....
From CNN: Montreal police said the violence started shortly after 8 p.m. Tuesday when show organizers told hundreds waiting outside Medley Hall that the bands Total Chaos and The Exploited would not be performing.
"At that point the crowd turned crazy and turned into a riot," Yannick Ouimet, a Montreal police spokesman, told Global Television.
French-language TV channel LCN said Canadian customs officials had barred some members of The Exploited from entering the country.
One witness said the rioters shouted "Let's start a war! We want to riot."
One city block had 24 cars with smashed windows and at least six stores had their windows smashed, Canadian Press reported. Firefighters put out fires in at least four cars that were overturned and set on ablaze.
An unknown number of people were arrested after riot police arrived, Canadian Press said.
Two police officers sustained minor injuries.
*Name has been removed to protect our sanity
Posted by at 3:26 PM | Comments (1) | TrackBack
October Barflies.net Magazine
Just wanted to let you all know that the new October issue of the Barflies.net magazine is up and ready for your viewing pleasure:
We are featuring:
The Adolescents, The Stitiches, Pistol Grip and Drive By Smile at House of Blues Anaheim
LA County Line CD Release Party - Los Creepers, Penis Fly Trap, Go Betty Go, Slanderin
Las Vegas/Primm 300 Off Road Race
Warped Tour 2003
The Dragons
Black Flag
Tom Ingram Interview - Las Vegas Rock-A-Round
The Bell Rays - The Raw Collection
Manic Hispanic - Mijo goes to Jr. College
Movie Review: Prey For Rock & Roll
Movies for Your Pleasure: Man From Elysian Fields and The Show Must Go Off!
Big thanks to all the contributors and the bands!
Posted by Ms. Jen at 10:13 AM | TrackBack
October 13, 2003
2nd Annual So Cal Ukulele Festival
Workshops, Luau & Concert
Saturday, October 18 2003
Cerritos & Seal Beach CA
See website (click above) for full details
on activities and performers.
Posted by Lucky at 11:52 AM | TrackBack
Ever Wondered....
Ever wondered how much you consumed in beverage up to this point? Take the Drink-O-Meter Quiz.
Posted by Ms. Jen at 12:55 AM | Comments (1) | TrackBack
October 9, 2003
The Greatest Album Covers That Never Were
"Track 16 Gallery is pleased to present The Greatest Album Covers That Never Were curated by music archivist Michael Ochs and fine artist Craig Butler. Inaugurated at the Rock and Roll Hall of Fame in June 2003, the exhibition consists of images created by one hundred established graphic and fine artists who were invited to create the definitive album cover for their favorite recording artist. Given no boundaries, these artists had the unique opportunity to create their ultimate fantasy album cover as a purely artistic expression. The exhibition runs from October 11 through November 15, 2003, with an opening reception on October 11 from 6 to 9 P.M."
Track 16 Gallery
2525 Michigan Avenue, Bldg C-1
Santa Monica, CA 90404
Posted by Lucky at 3:16 PM | TrackBack
October 7, 2003
The Barflies Tribe
You have said to yourself, "I don't want to pay for Friendster... I want a social networking site that works..."
I present to you the Barflies.net Tribe: http://barflies.tribe.net
Also, the new barflies.net issue is up with lots of photo essays, reviews, and various fun bits, including Kevin's kick ass "10 Best Adolescents' Shows".
Posted by Ms. Jen at 9:04 PM | TrackBack
October 6, 2003
Haunted Peeps!
Get your peeps together for some really sweet fun! I find these little devils delightful!
Posted by DJWanda at 1:10 AM | TrackBack
October 3, 2003
The Haunted Doll House
A little somethin' to start your month off in a spoooooky way!