« May 2006 | Main | July 2006 »
June 22, 2006
Better Communication
Fans of Texas singer/songwriter Jack Ingram or anyone who's just plain pissed off will appreciation watching the video for Jack's latest single "Love You," one of two studio tracks on his latest CD Live: Wherever You Are, which is a re-release of his 2004 Live from Gruene Hall CD. The video for "Love You" was filmed at a bar in Lancaster.
Posted by darlin at 3:30 PM
June 19, 2006
Nude....I mean, Nudie!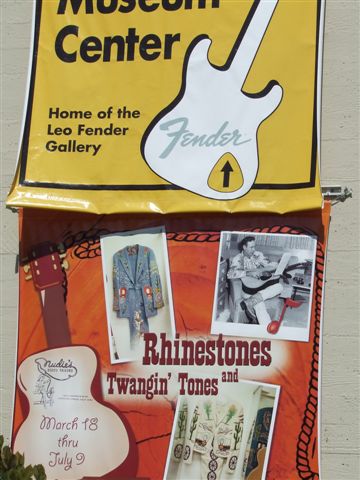 Sometimes life just gets too busy - sigh! I had something on my agenda for more than a month now. I looked at the postcard received in the mail every day sitting on my desk at work. Finally, after some planning I made it to Fullerton Museum today to see the Rhinestones and Twangin' Tones Exhibit. Now, you might ask,"What was that all about?" Well, back in the day, a Russian tailor by the name of Nudie imagined that he would be a famous tailor to the Country stars of the Grand Ole Opry and much more. Also included in the exhibit we found a replica of the gold lame outfit that Elvis Presley wore, and few famed guitars, one in particular owned by Hank Williams. Through perserverance Nudie made his dream come true and he formed a company that designed thousands of first rate rhinestone cowboy outfits with everything from rhinestones to embroidered flowers, cactus, stage coaches, and you name it, probably one of Nudie's originals had it. Simply beautiful handcrafted outfits worn by famed entertainers such as, Buck Owens, Webb Pierce, Hank Williams, Hank Snow, Billy Walker and the list goes on. I saw many of those today and the glitter captivated me. I like rhinestones! I like class on stage! I like Country music! Fullerton Museum is located at: 301 N. Pomona Ave. in old downtown Fullerton, CA.
www.cityoffullerton.com/museum/
On Thursdays, they hold a Farmers Market in the courtyard outside the museum where you can shop and get some good eats too. The museum hours vary, so I'd call for times during the week and weekends. And, the exhibit ends July 9th, so you have a few weeks yet. If you like to be adventurous and get out and about for a short tour of some amazing threads, then go see this exhibit! It'sa Twangin' good time. If you're interested in the history of Nudie the Rodeo Tailor, go here:
http://nudiesrodeotailor.com/news_01.html
Posted by CindyLu at 3:58 PM
June 6, 2006
Country Comes to the Sunset Strip
Check this lineup out...Something to look forward to over the summer, since "24" won't be back until January 2007. Rockin' Country Nights at the Whisky!
And besides all that, Monday is Junior Brown's birthday - what better way to celebrate?!
Posted by darlin at 1:18 PM