August 26, 2005
Let's go, let's go
Last Saturday night, I found myself driving through the winding roads of Fullerton Hills, looking for my friend Rob's house. It was his annual "House Party" and it was awesome. In the backyard surrounding the pool were white tables for the guests, and Taqueria was set up serving tacos, beans and rice. In the kitchen, we found Rob mixing up margaritas and various drinks for his guests. And then, the music began. The sounds of one of my favorite bands, The Vaquetones, echoed through Fullerton Canyon that night. As dusk rolled around, you felt a real relaxation. It was the perfect way to spend a Saturday night and so different from the usual places we go to hear live music. If you've never seen the Vaquetones, you can catch them on September 10th at Martini Blues in Huntington Beach, where they will open for James Intveld, another of the local scene's music legends.
Posted by CindyLu at 9:12 PM
March 21, 2005
SXSW - St. Patrick's Day
I've fallen and I can't get up!
Really, I don't enjoy laughing at other people's misfortunes, but this was funny. I was laughing with him, not at him.
Posted by DJWanda at 11:30 PM
Sublime Indeed!
One of the highlights of Austin was getting to see some of Jenny Hart's work up close and personal at the Yard Dog gallery in Austin. Of course, Jenny is the genius behind Sublime Stitching and my total crafty idol. So I was only too elated to get to stare at her needle work and see the intricacy, stitch sizes, color choices, and cleverness of it all up close. I took pictures. I drooled. I touched it (sorry, Jenny!) - the Yard Dog folks thought I was nuts.
When I need inspiration, I will come back to my shots of this amazing portrait in thread.

Posted by DJWanda at 11:16 PM
March 20, 2005
Works for Tips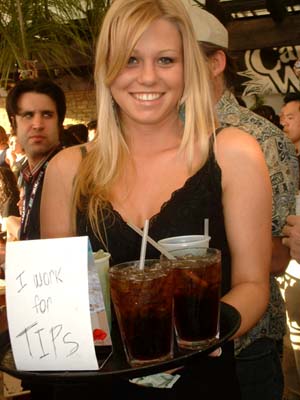 Lovely waitress at the Stuff/Spinart party. She was a popular gal, but had to remind the folks that even though the drinks were free, she worked for tips. As Alex Hernandez would say, "Here's a tip: stay in school. That way you won't end up a waitress."
Posted by DJWanda at 12:49 AM
SXSW - The New Face of Rock n' Roll
The new face of rock n' roll? We hope not.
The triumphant return of Nine Pound Hammer at the Parish, Austin Texas during the Bloodshot Records showcase.

Posted by DJWanda at 12:43 AM | Comments (1)
March 19, 2005
SXSW - Spinart Party
Miss Jen and Miss Wanda at the rooftop bar of the Speakeasy in Austin for the Stuff/Spinart party. The view was excellent, the music was good, the people were fun.
Posted by DJWanda at 5:42 PM
March 18, 2005
SXSW - Day 8 - Fashion
Fri 03.18.05 - I vote for the return of pegged pants for men. I am VERY sick of baggy pants. The singer of NYC's Sexy Magazines has the cajones & thighs to wear striped pegged pants.
Posted by Ms. Jen at 10:41 PM
March 16, 2005
SXSW Day 6 - Music! Elvis Costello
Wed. 03.16.905 - The day between SXSW Interactive and SXSW Music...
Sleep until 10:30am
11am - Hang out in 2nd floor lounge with The Brits, Dave Shea, Rob Weychert, and Jason Santa Maria until 1pm when they leave for airport.
1pm - 4pm - Lucky Laura and I go to the Whole Foods mothership new store. Completely overwhelming. Not so nice of an experience. Too many people, too confusing. It took Lucky and I two plus hours to negociate a grocery store...
7pm - Julie Wanda and Vicky Pepper arrived in the afternoon. We added Alex to the mix and we went off to Guero's for dinner. It was excellent.
9pm - Go with Wanda and Vicky to the Austin Convention Center to get Wanda's badge. Socialize with Maria from Arizona, Tantek from San Francisco, and others.
11pm - Wanda and Jen meet up with Alex at La Zona Rosa for Tift Merrit and Elvis Costello. Elvis was AMAZING. Good craft, good songs, great execution.
2am - Go back to hotel. Go to sleep.
5am - Wake up with a really bad tummy from dinner.
The Craziness Begins...
Posted by Ms. Jen at 11:02 PM
SXSW Day 6 - Let The Music Begin
Wed 03.16.05 - At Güeros. Alex & Wanda laughing about Vivian, Alex's mom, going on the Backyard Babies' bus to deliver beer & thai food.
Posted by Ms. Jen at 5:36 PM
December 30, 2003
Boys Gone Wild!
Ok. Let's forget all the petty controversies surrounding Brody and let's talk about a much more interesting subject: Young, Hot Men - Drunk, nude, lascivious, and showing their tits!
Wahooo! Winter Break in Long Beach! Just when you thought the bars in Long Beach were safe, we give you the hottest post-college guys who lost all their inhibitions and shirts, check out Barflies.net's exclusive coverage of BOYS GONE WILD at Alex's Bar on 12/27/03 for the Black Monday and Irish Brothers show:
Posted by Ms. Jen at 3:53 PM | Comments (8) | TrackBack
November 28, 2003
Doll Hut 2nd Anniversary Party
Here are some of the fun people at the Doll Hut 2nd Anniversary Party. Band photos will follow in the next issue of Barflies.net magazine.
Posted by DJWanda at 11:13 PM | Comments (1) | TrackBack
November 27, 2003
Doll Hut Benefit Sunday 11/23/03
I took a LOT of pictures Sunday at the Doll Hut. Here are just a few to whet your appetite...
More to come over the weekend!
Posted by DJWanda at 12:24 AM | TrackBack
November 18, 2003
Halloween and Throwrag
The Throwrag & Menace at Halloween show review and photo essay is now up and ready for your viewing eyes and pleasure...
Posted by Ms. Jen at 12:55 AM | TrackBack
November 8, 2003
West Coast Choppers' No Love Party
This afternoon was the West Coast Choppers 'No Love' Party in the LBC. A good 2,000 - 2,500 folks were there at the height of the afternoon, 92% men and less than 8% women, as well as lots of LB Firemen and EMTs, and a LBPD helicopter circling the sky. Bikers galore. The odds were very very very good, but the goods were very very very odd....
Happy Birthday to West Coast Choppers' Jesse James. And to Manic Hispanic for playing a great set of punk rock. And an even bigger thanks to all my friends who let me take their pics and put them up. Louisa, here you are...
Posted by Ms. Jen at 8:05 PM | Comments (3) | TrackBack
September 30, 2003
Black Flag Reviews
A couple of weeks ago, "Black Flag" tortured thousands of humans in the LA area over the course of three nights. Wanda and I were apart of that crowd at the Sunday night show.
The only really good thing to come out of these "shows" has been a few exceptionally funny reviews:
Chris Ziegler's review in the OC Weekly notes:
Flag founder Greg Ginn is a guitar genius, but this show demonstrated further talents: "Wow," said one Flag apologist, watching a wave of meatheads try and find a beat to mosh to. "Ginn's like an idiot savant—at pissing people off."
Tim Jamison's review in Razorcake notes:
After the Robo part they lose the bass player and drummer. Then they plug Dale back in and Dez continues to sing. This went on for nearly two hours. But hey, I could have been in St. Louis trying to kill time on a Friday night instead of being bummed out at a Black Flag show. Did I mention this was all for cats? Rock for cats? I will allow the obvious joke about why guys get into bands slide right by me.
Posted by Ms. Jen at 8:49 PM | Comments (2) | TrackBack
July 28, 2003
Hootenanny 2003
The Barflies.net Hootenanny 2003 coverage is now up, featuring reviews by Bridget, Wanda, and Kevin, as well as photos by Cindy Luann!
Posted by Ms. Jen at 2:56 PM | Comments (1) | TrackBack
July 12, 2003
Know someone who knows someone who knows someone...
Wanda and Ms. Jen know someone who knows Jack Shit. Really they do.
Photos from last night's Speed Buggy, Black Monday, Irish Brothers show at the Doll Hut can be found here. Thanks to Brian (Shot to Hell) for wearing a shirt that was the cause of such note.