« February 2006 | Main | May 2006 »
March 31, 2006
Flametrick Subs
The Flametrick Subs will be appearing on a short West Coast Tour starting April 1. Catch them while you can!
Saturday, April 1: Grease Demon Presents "No Fools Trailer Park Party" with The Barnyard Ballers, The Flametrick Subs, Pal Joey, Skunx, and Donchalator at Lakewood Elks Lodge in Hawaiian Gardens, CA
Sunday April 2: Alex's Bar in Long Beach, CA with The Irish Brothers
Friday April 7: Doll Hut in Anaheim, CA (featuring The Satan's Cheerleaders) with The Rocketz, and The Irish Brothers, and The Ditch Diggers (see flier by Dick Cherry)
April 2 at Alex's Bar in Long Beach. Tonight I interviewed Clem Hoot, lead guitarist for the band. Come out and see The Flametrick Subs and meet DJ Wanda and Filthy Rotten Wes, who will be dj'ing!

Posted by DJWanda at 7:56 PM
March 27, 2006
RIP, Buck Owens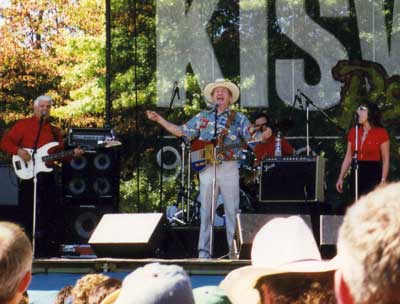 I took this picture of Buck Owens at the 1998 Bumbershoot festival in Seattle. A good chunk of the crowd were there to see Screaming Trees, who were scheduled to play next, but Buck won them over. He rocked.
Posted by Big Kev at 5:21 PM
RIP, Buck Owens
From the Official Buck Owens Website: 03-25-2006 KUZZ Radio owner and Country Music Hall of Fame musician Alvis E. "Buck" Owens died early Saturday morning at his Bakersfield, CA home. His family says Buck died in his sleep and the cause of death is not yet known.
For those of us who grew up loving Buck's music, and watched our parents watching Hee Haw (every weekend at my Grandma Vicki's on a huge console tv set), this is indeed a sad day.
Allmusic.com has a nice biography on Buck by Stephen Thomas Erlewine:
Buck Owens, along with Merle Haggard, was the leader of the Bakersfield sound, an twangy, electricified, rock-influenced interpretation of hardcore honky tonk that emerged in the '60s. Owens was the first bona fide country star to emerge from Bakersfield...

scoring a total of 15 consecutive number one hits in the mid-'60s. In the process, he provided an edgy alternative to the string-laden country-pop that was being produced during the '60s. Later in his career, his musical impact was forgotten by some as he became a television personality through the country comedy show Hee Haw. Nevertheless, several generations of musicians — from Gram Parsons in the late '60s to Dwight Yoakam in the '80s — were influenced by his music, which wound up being one of the blueprints for modern country music.
(read the rest of the biography at allmusic.com

Posted by DJWanda at 12:05 AM | Comments (2)
March 17, 2006
Dance Hall Crashing in my living room
Sitting on the floor by my seldom-used TV and DVD player (a fairly recent purchase, wrought by the fact that it's hard to rent videos anymore and it was only forty bucks) because there's no room on my cluttered couch, I saw a pair of DVDs waiting for me to pop them in and, uh, watch them. Tink gave them to me who-knows-how-long-ago to review for Barflies.net, but I didn't know they were DVDs when I got them. I guess Kung Fu Records started recording and releasing bands' shows as concert DVDs. For no good reason, I put the Dance Hall Crashers one in before the Bouncing Souls disc.
Sandwiched between two of my favorite artists on my first of three large CD racks, Dakah Hip Hop Orchestra and Charlie Daniels Band, are four DHC discs. The first two I bought. The second two are ones I kept from all the freebies I received when I was on everyone's promo list. The mid-90s was the beginning of 3rd Wave Ska's ascent into the mainstream. The first time I saw DHC was at the Palace, back when it was called the Palace and they could pack it. Their horn section was already gone. Tim Armstrong, who played with them in between OpIvy and Rancid, was already gone. Basically, they were just a pop-ska band with sticky-sweet tunes and tandem chick singers. The Scandanavian one, Karine or Katrina or something, was the bouncy, hyper, sexy one and even Elyse, the chubby one, was cute. Their shows were fun because you jumped up and down a lot. If there was room, as was the case at all such ska shows, you skanked. Throughout the 90s, I went to hundreds of shows and the measure of how good the punk or ska show was, was how big a puddle I made when I rung out my shirt afterward.
Watching the DVD, I see how much each has changed. To be fair, I think it's stupid to watch a show on DVD, more or less so than produce it in the first place. What's the point of Kung Fu putting out this "The Show Must Go Off" series? If you've seen the band, it's a million times better live. If you haven't, it's hardly at all a substitute for the real thing. Confined to the tiny TV screen, the band member's moves seem mechanical and the songs are flat. Worse, all the shots of the audience are just the front (they didn't use that fun glass ball with the stabilized camera in it like in that Motley Crue vid) and often capture them just standing there not moving or singing along. I keep seeing one girl holding a sign, but they never show what it says. I am surprised how I still know all the words, though. I can't believe DHC are still around. And filling the HOB at that.
I really need, need, need to go see more shows. I'm the same age as the folks in DHC or younger (they started in 1989 I think) and they still put on shows, so I should still be going to them. Not theirs, per se, because I've seen them about 4 times and watching this DVD I can tell you it hasn't changed much and I doubt that even if I had seen this set back in my heyday, the resulting puddle would've been that big. I don't even need puddles anymore. I just want to be really into some bands out there. Indie 103.1 is a great station, but I realize they haven't turned me onto anything in a huge way. They play Matisyahu, but I actually saw him before they ever played him on the air. They just started playing Gogol Bordello's "Start Wearing Purple," but I saw them a couple years ago, too. Hey, check me out. I'm still ahead of the game sometimes. If anyone knows of a good gig coming up, lemme know. I'd rather see them live now for cheap than watch the DVD in a decade from now.
Posted by occulator at 12:02 AM
March 1, 2006
Updated Record Weirdo Website
Remember the clunky old Record Weirdo website? It's gone, but it's back in a slightly more spiffy and slick design.
Check out the new and improved Record Weirdo website.
Posted by Big Kev at 7:17 PM