« February 2005 | Main | April 2005 »
March 31, 2005
April 1st Film Releases
The Internet buzz that has been building for months has finally come to head and it's time to pop it like the pimple that it is! Yes, ladies and gentlemen, Beauty Shop is finally out in theaters! Let your extensions down and pile on the curl relaxer because nothing says artistic expression better than Queen Latifa in a tight pair of pants.
1) Beauty Shop
2) Sin City
3) Kontroll
Happy April Fools!
Sin City
Now this is a little bit of gritty crime drama that I can get behind. Frank Miller's Sin City graphic novel series has been heralded as an artistic masterpiece and I have never seen a movie try to stick to the vision of original author better than this movie. If you don't believe me, check this out. See it. Live it. LOVE it.
Beauty Shop
I was joking people.
Look at Me
A fat girl with a famous father has a general outlook of cynicism towards every man that shows interest in her because she thinks it's all because of her genealogy and not because they genuinely find her attractive. Meanwhile, her father, the only man she wants any attention from, completely ignores her.
Can you see the clichés coming from a mile away? Are you blind?
Dust to Glory
A documentary about the Baja 5000. I hear it's good, but I'm not really into motor sports. Glamis freaks will flock, I'm certain.
Kontroll
A story about murder, love, and mayhem in the subway tunnels of Budapest. Yes, it really made the top two. Word from the festival circuit says it's visually stunning and takes you for an unexpected, fast paced ride.
Go for it. Life is short. Take a chance on a little independent film from the Eastern Block.
Posted by xx - Ms. Lauren - xx at 7:48 PM
March 30, 2005
Go Get 'Em!
Jeff Veen on Blogging (via Jeremy):
Not a lot of people understand what blogging is. And I'm not being metaphysical -- I mean that the vast majority of people in the world have no idea what we're talking about when we talk about blogs. And most of those familiar with the concept often liken it to crazy hermits pounding out manifestos in their mountain cabins. Marketing this will be an uphill battle.

But I've always seen it as a technological solution for enabling participation. Typing into a text box and hitting the publish button has proven far more successful that angle brackets and FTP servers. People can say what they want, share stuff, and stay focused on communicating rather than web publishing.
Read the rest, be encouraged...
Posted by Ms. Jen at 11:52 PM
March 26, 2005
Darlin's SXSW Recap...by numbers
5 - Days spent in Austin for SXSW
33 - Bands seen
11 - Venues visted
1 - Miller Lites consumed
90 - Minutes spent standing in line to pick up my badge
1 - Times I decided to get a horseshoe tattoo on the side of my neck
1 - Times Wanda & Ms. Jen talked me out of getting said tattoo
46 - Degrees Fahrenheit when Doyle Lawson & Quicksilver performed OUTSIDE at Opal Divine's
4 - Lonestar beers consumed
1 - Ray Romano look-a-likes spotted at Guero's
250 - lbs. the driver had to haul around when Alex decided he wanted a pedicab ride
110 - Guestimated lbs. of pedicab driver who had to haul 250 lbs. of Alex
0 - Time spent at the Austin Music Awards since Wanda got banned
4 - Dollars required to withdraw money from the ATM
11 - Shiner Bocks consumed
1 - Times Turkish hackers with bad grammar sabotaged barflies.net
3 - Visits to Amy's Ice Cream
265 - Dollars spent on souvenirs
1 - Tequila shots consumed
2 - Servicepeople who hit on me while I was patronizing their establishments
632 - Number assigned to my minidisk recorder as an "official" SXSW Videographer/Photographer
3 - Cross-dressers spotted on Sixth Street
2 - Lip glosses included in the complimentary goodie bag from "Heidi's Night of Beauty"
3 - Margaritas consumed
355 - Days remaining until 2006 SXSW Music Festival
Posted by darlin at 5:45 PM
It's Where Music is Going...
If you're looking for a cool place to hang out (when you're done with barflies, please!), check out altville.com...It's a place on the web and on the radio where fans of alt. country music can hang out & talk about all things Alt. Country...

Posted by darlin at 5:16 PM
March 23, 2005
Open for Comments & Other Editorial Tid Bits
Hi to all the Barflies.net-ters!
Happy Spring to you all. Ms. Jen the Editor here. A few notes for you all:
1) Due to a lovely conjunction of anti-spam plugins for Movable Type (which runs this part of the website), I have been able to open Comments here and at the Photo Blog again. Big thanks to Jay Allen for MT-Blacklist! You will still need to put in your name and email or use TypeKey which ever way works best for you, but do comment away.
2) Our Message Board(s) have been hacked by some...(you fill in the expletives). We will be down for a bit, until I am able to research how to save the database and export it to a more secure installation.
3) SXSW 2005 was wonderful. So was Punk Rock Bowling. So was the Barflies.net 6th Anniversary party.. and So was... Anyone want to sponsor me for a day or two, so I can finish and post the photos without worry of penury?
Posted by Ms. Jen at 1:19 PM
March 21, 2005
SXSW - We're BACK!
So, we're back (ugh!) and I'm almost unpacked (ugh!) and I started the laundry (ugh!), took the moldy food out of the fridge (ew!) and I even went to work today (triple ugh!). Where do I begin? With the food, the drinks, the music, the sights, the sounds, the smells? Over the next week (or two) Miss Jen, Darlin' and I hope to put up our Best of SXSW, taking no prisoners, pulling no punches and mixing no metaphors. You'll get the best of the best and the worst of it all. You'll feel like you were there! (except your feet won't hurt and you won't have gained 10 pounds in four days).
As always, we took hundreds of pictures (literally) and it will take a while to sift through them all, find the best, and post them for you. Yes, Jen is still working on the bowling photos. And since I know this site is about more than photos (isn't it?) I'll have some extended thoughts over at the magazine as well. I hope you'll check back often.
- DJ Wanda
Posted by DJWanda at 11:50 PM
SXSW - St. Patrick's Day
I've fallen and I can't get up!
Really, I don't enjoy laughing at other people's misfortunes, but this was funny. I was laughing with him, not at him.
Posted by DJWanda at 11:30 PM
Sublime Indeed!
One of the highlights of Austin was getting to see some of Jenny Hart's work up close and personal at the Yard Dog gallery in Austin. Of course, Jenny is the genius behind Sublime Stitching and my total crafty idol. So I was only too elated to get to stare at her needle work and see the intricacy, stitch sizes, color choices, and cleverness of it all up close. I took pictures. I drooled. I touched it (sorry, Jenny!) - the Yard Dog folks thought I was nuts.
When I need inspiration, I will come back to my shots of this amazing portrait in thread.

Posted by DJWanda at 11:16 PM
March 20, 2005
Works for Tips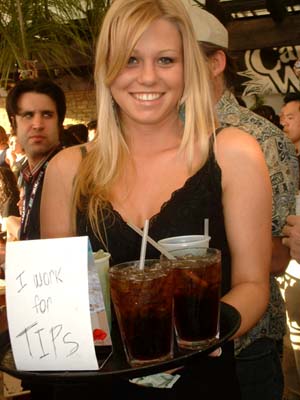 Lovely waitress at the Stuff/Spinart party. She was a popular gal, but had to remind the folks that even though the drinks were free, she worked for tips. As Alex Hernandez would say, "Here's a tip: stay in school. That way you won't end up a waitress."
Posted by DJWanda at 12:49 AM
SXSW - The New Face of Rock n' Roll
The new face of rock n' roll? We hope not.
The triumphant return of Nine Pound Hammer at the Parish, Austin Texas during the Bloodshot Records showcase.

Posted by DJWanda at 12:43 AM | Comments (1)
March 19, 2005
SXSW - Spinart Party
Miss Jen and Miss Wanda at the rooftop bar of the Speakeasy in Austin for the Stuff/Spinart party. The view was excellent, the music was good, the people were fun.
Posted by DJWanda at 5:42 PM
March 18, 2005
SXSW - Day 8 - Fashion
Fri 03.18.05 - I vote for the return of pegged pants for men. I am VERY sick of baggy pants. The singer of NYC's Sexy Magazines has the cajones & thighs to wear striped pegged pants.
Posted by Ms. Jen at 10:41 PM
March 17, 2005
March 18th Film Releases
Happy Irish Hangover Day!!! I can't think of any better reason to see a movie than "you never want to drink that much ever again" and "please can we avoid the bar today?" For me, that was last weekend as I'm sure anyone in the vicinity of Manhattan Beach will be glad to tell you all about it.
1) Melinda and Melinda
2) The Ring Two
3) Steamboy

The Ring Two
She let the dead get in. I hate it when that happens. Samara is back and all she wants is a little love, so she tries to take over the life of Naomi Watt's son. Creepy.
Could be good. They brought in the original Japanese director. Could be bad. It is a sequel.
Thing to get the most excited about: Sissy Spacek's return to the horror genre.
Ice Princess
Talk about creepy. Figure skaters without any normal teen angst. Buy the bootleg for your niece.
Melinda and Melinda
This looks like the most worthwhile film Woody Allen (incestuous pedophile and I don't care if she was adopted you sicko) has put out in a great while. It's the story of one very screwed up woman trying to straighten out her life told two different ways simultaneously. From one perspective, it's a comedy. From the other, it's a drama.
This is the kind of originality I can get excited about.
Steamboy
An anime cartoon based on a fractured family of inventors in turn of the century London, when steam was the primary energy source.
No, it won't follow any scientific logic or historical fact, but who cares? Its anime with Oscar winning actors!
Milk and Honey
Umm. I haven't heard anything about this, have you? All I know is that it's about the breakdown of a relationship over the span of one night in New York. I'll bet he just wasn't that into her.
Posted by xx - Ms. Lauren - xx at 8:22 PM
March 16, 2005
SXSW Day 6 - Music! Elvis Costello
Wed. 03.16.905 - The day between SXSW Interactive and SXSW Music...
Sleep until 10:30am
11am - Hang out in 2nd floor lounge with The Brits, Dave Shea, Rob Weychert, and Jason Santa Maria until 1pm when they leave for airport.
1pm - 4pm - Lucky Laura and I go to the Whole Foods mothership new store. Completely overwhelming. Not so nice of an experience. Too many people, too confusing. It took Lucky and I two plus hours to negociate a grocery store...
7pm - Julie Wanda and Vicky Pepper arrived in the afternoon. We added Alex to the mix and we went off to Guero's for dinner. It was excellent.
9pm - Go with Wanda and Vicky to the Austin Convention Center to get Wanda's badge. Socialize with Maria from Arizona, Tantek from San Francisco, and others.
11pm - Wanda and Jen meet up with Alex at La Zona Rosa for Tift Merrit and Elvis Costello. Elvis was AMAZING. Good craft, good songs, great execution.
2am - Go back to hotel. Go to sleep.
5am - Wake up with a really bad tummy from dinner.
The Craziness Begins...
Posted by Ms. Jen at 11:02 PM
SXSW Day 6 - Let The Music Begin
Wed 03.16.05 - At Güeros. Alex & Wanda laughing about Vivian, Alex's mom, going on the Backyard Babies' bus to deliver beer & thai food.
Posted by Ms. Jen at 5:36 PM
March 12, 2005
South By Southwest!
Spring Break in Austin, Texas. Computer Geek, Film Folk, and Music Spring Break!
I am blogging and photo-blogging the Interactive portion of SXSW over at BlackPhoebe (Yesterday through Tuesday). And next week, Wed - Sun, Wanda and I will be blogging the Music conference here at the Barflies.net News & Tidbits!
I have already met a barflies.net mailing list-er, Amanda Udoff, at a party last night.
Posted by Ms. Jen at 12:46 PM
March 10, 2005
March 11th Film Releases
Pacifier?! Pacifier is number one at the box office? I guess that doesn't count all the people who ran out midway through the film because it was lowering the audience's collective IQ.
See good movies people. Don't make careless movie going decisions, it only leads to sequels.
1) Millions
2) Upside to Anger
3) In My Country

The Passion of the Christ (The Passion Recut)
Now with less gore!!! What is this? If you can't get to church, see the movie? Why read the New Testament when you can see the movie?
In My Country
Two journalists covering the Reconciliation Hearings in South Africa, go into the cities and town to hear stories of oppression from the very people who experienced it. Self Discovery and Catharsis served with the usual fare of abhorred human rights violations.
Hostage
A couple rookies take the mafia's accountant hostage, so the mafia takes Bruce Willis' family hostage to make sure the rescue job gets done right. Die Hard: The Reincarnation.
Robots
This little contraption has a dream of repairing other gizmos so they don't get taken to the trash heep. I only care if he fixes cars. I am going to need a new transmission in the near future.
Great if you have kids, too much other stuff worth seeing if you don't.
Millions
A little guy with a powerful imagination and a recently deceased Mum finds a bag of money and believes it's a gift from God and wants to do good things with it. His older brother isn't so sure about the Holy Ghost and wants to get cool clothes and a Game Boy. The thief who stole the money is willing to kill them to get it back.
The Upside to Anger
I love Joan Allen. Don't you? She plays the (drunk) matriarch of a family of four daughters whose father ran off. Kevin Costner plays a retired (drunk) baseball player (with an actual personality) who wants to get into Mom's pants and ingratiate himself into the family.
I am curious to see what a male comedian can do with a female dominated story. That, and you know my favorite premise - f*ed up people doing f*ed up things! Keep to that and you'll never go wrong.
The Boys from County Clare
I have actually seen this. It played at the Santa Barbara film Festival last year and I thought it was good. Two estranged brothers, who are not above resorting to sabotage, compete against each other in a music competition. If you like Irish music and dysfunctional family comedies, then see this. Otherwise, order it on Netflix.
Dot the i
I saw the trailer. I read the synopsis. I still don't get it. An engaged woman has doubts when she meets another man, then all hell breaks loose. And I don't mean the kind of hell you expect. This looks like really strange hell.
If you're in the mood for a romantic thriller with a really hot cast, then this could be fun.
Posted by xx - Ms. Lauren - xx at 6:51 PM
March 5, 2005
Save Indie 103
In this weeks LA Weekly, they have a open letter to God, praying to help keep Indie 103 on the air.
What the FCC?, God Save Indie!" by Kate Sullivan
Indie will continue till about the end of March, the letter says, unless a miracle happens. . . Pray for Indie!!!
Posted by Tinkinator at 11:14 AM
March 3, 2005
Head Injuries & Sex Addicts In Blue Collar Baltimore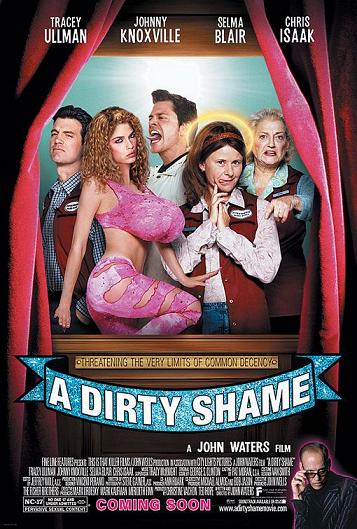 I haven't seen this movie. I heard it was pretty bad. Like, dirrrrty bad. Like perverted "pulsating butthole" bad..
But then again, it's John Waters.
"Lust is in the air on Harford Road and Sylvia Stickles, a grumpy, repressed middle-aged Baltimorean, doesn't like it. Though Sylvia's handsome husband Vaughn still has marital urges, his wife could not be less interested -- she has more important things to do. Not only does Sylvia run the family's Pinewood Park and Pay convenience store, she's also responsible for watching over her exhibitionist daughter Caprice. A go-go dancer known to her adoring fans as Ursula Udders, Caprice and her stupendously enlarged breasts are currently under house arrest after several nude and disorderly violations. But Sylvia's world is turned upside down one day after suffering a concussion in a freak traffic accident. Sexy tow-truck driver Ray-Ray Perkins rushes to her aid, and the stricken Sylvia realizes he is no ordinary service man; he's a sexual healer who brings Sylvia's hidden cauldron of lust to the boiling point."

The cast highlights favorites Tracey Ullman, Johnny Knoxville, Selma Blair, Chris Isaak, Suzanne Shepherd, Mink Stole, and Patricia Hearst. You might recognize some from previous Waters films.

Think about this: "If you are a pervert, and like a movie that is only about one thing, sex, you are going to love this movie."

John Waters is known for his films including, "Cecil B. DeMented," "Serial Mom," "Cry-Baby," "Hairspray," "Polyester," and "Pink Flamingos."
If you see it, let me know how it is. Just don't take your mom.
Rating: NC-17
Movie summary taken from IMDB.com
Posted by xx - aprilfalling - xx at 3:53 PM
"Crybaby" Inspires 2006 Broadway Musical
"Broadway will hear a new generation of songwriter in 2006 when Adam Schlesinger of the pop group Fountains of Wayne pairs with lyricist David Javerbaum, the Emmy Award-winning writer of TV's "The Daily Show," for the new musical, Cry-Baby.

Like Hairspray before it, the show (as previously announced) will have a libretto by Tony Award-winners Thomas Meehan and Mark O'Donnell, and is based on a film by John Waters. A spring 2006 opening on Broadway is projected.

In the 1990 movie, which has class-clash as a theme, a good girl representing the rich "Squares" in 1954 Baltimore is attracted to a motorcycle-riding, leather-clad bad-boy (then played by Johnny Depp), a member of the "Drapes" — from the other side of the tracks."
Read entire article HERE.
<3 AXF
Posted by xx - aprilfalling - xx at 1:08 PM
March 2, 2005
Video Killed the Radio Star
So I found this link on apple and the Rhino Records website that plays old videos.
Classic Videos
I was a fanatic as a kid for music videos. I remember being really little and on Sat. mornings(I think), Richard Blade from KROQ had a show on channel 5 and I think it was called Video Beat. They would play Duran Duran, The Cure, Depeche Mode videos, etc, plus interviews too. Then I found out that he was doing a show on KDOC (A Orange County Channel, owned by Pat Boone) called Video One. It was the best and then it turned into Request Video in the late eighties/early ninties. They had Social Distortion play live and the Vandals, too. In the mid to late 90's Request Video signed off and I always wondered what happend to all those videos. Of course, I loved MTV when they played videos. I would come home everyday a 3 and watch total request live and then at like 5 PM Request Video came on. I was in heaven. . . Just Like Heaven!
Posted by Tinkinator at 7:52 PM