The website had some technical difficulties but now everything is in working order - thank you Ms. Jen.
I never got around to writing my "What I Did On My Summer Vacation" essay because I had no place to post it, so I'll just show some pictures of some record stores I visited last year. I made extensive mental notes about each store and what records I bought, but they weren't important enough to remember. What I didn't forget has been further edited for content and possible attention span issues.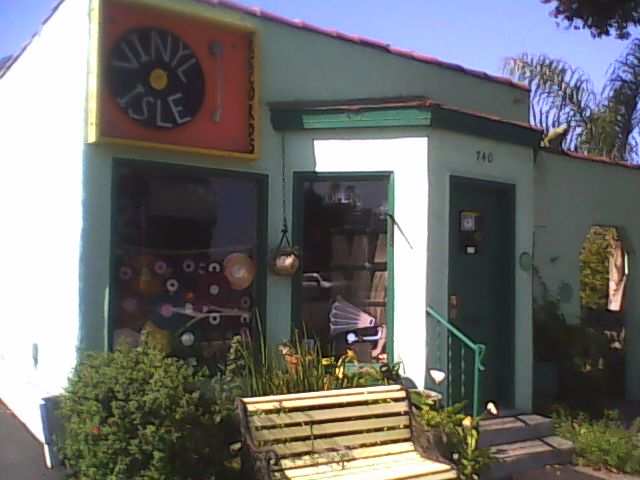 Vinyl Isle, Morro Bay, CA. Was the name "Isle of Vinyl" (get it?) already taken, or did they realize that it was just too sickingly cute? I think they made the right decision. Nice little store, small inventory with emphasis on 60's and 70's stuff.

Recycled Records, Monterey, CA. This store has been in the same location for about 30 years and I may have been there before but I didn't get that "déjà vu all over again" feeling. Recycled has a great old classic record store vibe without being dark and musty - the wood shingle interior siding is a nice touch. They have a large and eclectic used inventory and apparently do slam-bang business with new vinyl. The store has sections for genres I've never even heard of, so they must be doing something right.

Magnetic Music, Taos, NM. In addition to used records, this store also has a funky collection of vintage instruments and other antiques. They are small and way off of the beaten track, but they have a pretty good selection.

Big Star Books and Music, Santa Fe, NM. With their cosmic name, I half expected some new-agey store that sells UFO books, mass-produced dream catchers, and CD's featuring drum-machine-and-pan-flute versions of "I'd Rather Be a Hammer Than a Nail." However, I was pleasantly surprised to find out that Big Star was named after the great Memphis power pop band of the same name. They don't have any vinyl, but they have an always interesting and moderately priced used CD inventory - lots of blues, jazz, and slightly obscure rock. I also like the store because it's in an old house near the train station.
The Good Stuff, also in Santa Fe, is a new store that sells mostly vintage clothing and books, with a small room full of records. The inventory at this early stage is underwhelming, but it should improve over time. Downtown Santa Fe needs a record store, so I hope they do well.

Reckless Records, Chicago, IL. There are several locations of this chain in Chicago, but I only made it to the one within walking distance of where I stayed. With a sudden burst of wordiness, I will call it a vibrant big city storefront shop with an inventory emphasizing the esoteric. Like any good tourist and record geek, I bought a t-shirt.
For no apparent reason, here is a picture of a Chicago style hot dog.

No one will ever notice that I closed a previous story with a hot dog gag. That was years ago.