« Hot Punk Rock Men! Only 5 Measly Little Days Until Punk Rock Bowling! | Main | AXF: 'Saving Grace' »
February 2, 2004
4 Days Until Lost Wages!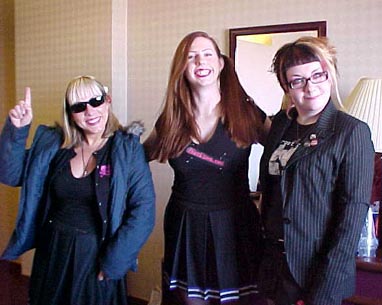 Team Barflies.net - Lisa, Yvonne, and Rae - PRB 2003
The Barflies.net team(s) have a tradition of spending the hour before we have to report to bowling getting all gussied up and drinking sangria, even if it is only 12 noon .... ;o)
Posted by Ms. Jen at February 2, 2004 5:55 PM |
Technorati
Comments
If anyone cares, its a whopping 50 degrees right now in Vegas. Expect a late afternoon high around 58 all weekend and a low of 40. It might be a bit breezy too so be sure to bring a jacket.
Posted by: Sin City Jimi at February 4, 2004 7:00 PM
thanks for the heads up - it's been chilly down here too this week - brrrrrr....
~ lol, we are so spoiled! ~
Posted by: Lucky at February 5, 2004 10:09 AM
There's a wind advisory through the Cajon Pass. 25 - 35 MPH with gusts up to 45 MPH. Watch for falling RVs!
Posted by: Sin City Jimi at February 5, 2004 11:00 PM