« December 2005 | Main | April 2006 »
January 26, 2006
Real, full-on PRB Top 10
PRB Top 10 (in chron order)
1. Hitting the ground running. No sooner than we check in late Friday night than I good'n'loaded and before I know it, it's time for steak'n'eggs b-fast at 4:30 a.m. en route to catching a little shut-eye (shh, don't tell anyone I wussed out).
2. Jacuzzi tub. Those fucknuts at Sam's Town may have given our room away with two beds (it's no secret I love and lust for Sandra and Justin, but ever since Comrade Daly became Mecha-Justin when he sleeps, no way am I sharing a bed with them) and the night manager, "Dick," was "happy to provide me with a roll-away," so I was happy to insist they give us a suite and then some*. Not only was this suite on the inside overlooking the atrium and Ram's Head Bar inside Sam's, but it had a tub with jets. My punk-ass, hard-as-fuck self even sprinkled the bath crystals in there.
3. Bowling. No, we didn't make it into the Top 32. Somehow we didn't even make the Top 88 this year (wha…?). But it was fun nonetheless. I was striking up a storm, but for some reason, I couldn't pick up a spare to save my life. Top score: 170.
4. Hofbrauhaus. Seven of us took a cab ride all the way to Munich and feasted at the replica of the Hofbrauhaus. Big Kev and I were the only ones man enough for the liter of lager, and Comrade Justin and I were the only ones man enough for the sausage platter (oh wait, that can be misconstrued). Good, authentic saurkraut and an Oompa band? Hell'syeah.
5. TOM MOTHERFUCKIN' JONES. That's right punks. I didn't get to see the Swingin' Utters. Didn't mind not seeing the Briefs again. Had no interest in seeing Pennywise. And you couldn't even heard Flock of Goo Goo behind that glass case at Roxy. So 4 of us headed to the MGM for THIRD ROW seats for TJ, "The Voice." Was I the only one singing the chorus "You bitch, you slut, you whore" during "Delilah"? SFW!
6. Wheel of Fortune Progressive. I hate Vegas, gambling in particular. But when I'd had enough of the Vince Neil Wannabe show at Roxy (dude, you're wearing cheetah print pants and matching cowboy hat and you're singing a Van Morrison song?? Um.) I went and plunked a bill in the no-armed bandit (you just hit a button that says "spin" now) and multiplied my pot by 150%. Too bad I started with only $10. We hit a few more banks of W.O.F. slots, but fortunately for me although I lost on the penny one, I recouped it all and then some on the dollar one. Still, it was enough for some more drinks and…
7. More 4:something a.m. steak'n'eggs. I'm drawing a blank on who we ended up sitting with, but I know that John Cusack lookin' dude was there. Afterwards, it was up to our new room, where I'd have a real bed.
8. Sleep in late. No second-round bowling? No problem. Woke up at a leisurely time, got my morning coffee and carrot cake (they were out of everything like bagels and cinnamon rolls).
9. Laser Vag. I went down to the alley to make sure Epitaph won again. In the process, I got my PBR (not PRB, Pabst Blue Ribbon) button back from that biter Jason Stabile and was then treated to discovering why they call Jen (Jennitalia), "Laser Vag." When she pulled everything down right there in the alley, though, she revealed that she's gotta go in for "one more session." Anyway—as much as I hate Vegas, sometimes ya gotta love it.
10. *Steak. No, not $3.99 steak'n'eggs, but actual, proper steak. It seems the night clerk who helped us when we checked in disliked her supervisor and manager as much as we did, so she hooked us up with a bunch of vouchers, which we blew at Billy Bob's Steakhouse. Filet Mignon! Considering we brought our own wine and just paid a corkage fee, we escaped on the cheap for such a fine meal.
Honorable Mention. "Pupee." I don't know how it came up (possibly discussing Laser Vag's revelation, but on the drive home Justin coined an awesome word, "Pupee," which is of course a pube toupee. Too bad the word already exists as "mirkin." But I like pupee better.
Can't wait for PRB 07.
-Occulator

Posted by Occulator at 01:43 AM | Comments (1)
PRB Top 8 (to be followed by the actual Top 10 list)
I like the idea of themed Top 8s, and since I had a fricking blast as per usual in Lost Wages for Punk Rock Bowling, I am now sporting an all PRB crew on my MySpace profile. My Barflies.net peeps were depleted this year (due to financial reasons, or being in Ireland...) and not everyone on my bowling squad seems to have a profile (that I know about, but actually, Big Kev must b/c he subscribes to my blog I found out), so this is sort of a mishmash of my squad, some of the lovelies I hung out with (I'm including Jason Stabile because that little bitch bit me like a girl), and of course the legend that entertained me in a way Pennywise never could and not even Flock of Goo Goo achieves, Sir Tom Jones.
See y'all next year.
Posted by Occulator at 12:35 AM | Comments (0)
January 19, 2006
The Power is in Our Hands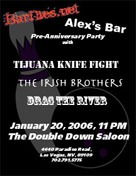 Posted by Tinkinator at 10:36 PM | Comments (0)
January 08, 2006
Bowling Tuesday?
Hi, I think we're bowling Tuesday at Linbrook - Lanes Now Open - Bowl in Beautiful Anaheim. And I hope wherever you are, you're bowling too, although I'm sure you don't need the practice as bad as I do! Who's with me on Tuesday - Kevin - is it Tuesday or Wednesday?
Posted by DJWanda at 01:34 AM | Comments (0)