In its third year of existence, many people are saying that last weekend's annual Stagecoach Festival in Indio, California, has become the premiere country music festival in the world. I can't argue with that, given the sheer number of people at this event. I haven't heard an official head-count yet, but estimates of attendees are around 10,000. It's easier for me to describe my own experience as way of explaining just how many people were there.
My mom and I left Riverside for Indio around 1p Saturday afternoon, stopped for lunch, and then continued our way east, thinking that we'd arrive at the polo field just before 3:30p - giving ourselves some time to park and walk the lo-ong walk from the parking lots to the entry gate before the first act that we wanted to see went on stage. Wrong. After turning off the freeway, we sat in traffic for an hour and a half before parking, and by the time we got into the festival grounds, we were seated so far back from the "Mane Stage" (like a horse - get it?), we couldn't even see the big screen, much less the actual artist on stage. We learned our lesson on Sunday, and left Riverside much earlier in the day - and only sat in traffic for 40 minutes waiting to park. We still had pretty crappy seats, though.
However - I did not consider this festival a wash by any means - in fact, it was one of the best musical experiences I'd ever had. Because it's marketed toward fans of mainstream country, but also showcases Americana (or whatever you want to call it) and bluegrass, if you're a fan of those genres, you are in luck (if you can stand the waiting in the traffic). Because most of the people at this festival are of the Kenny/Flatts/Taylor/Toby variety, a much smaller portion of the audience is interested in seeing the side stages - meaning, you can get REALLY close to the music - even closer than if you were seeing these bands at a club gig. And you get to sit down for most of them. My mom and I sat in the front row to see Earl Scruggs.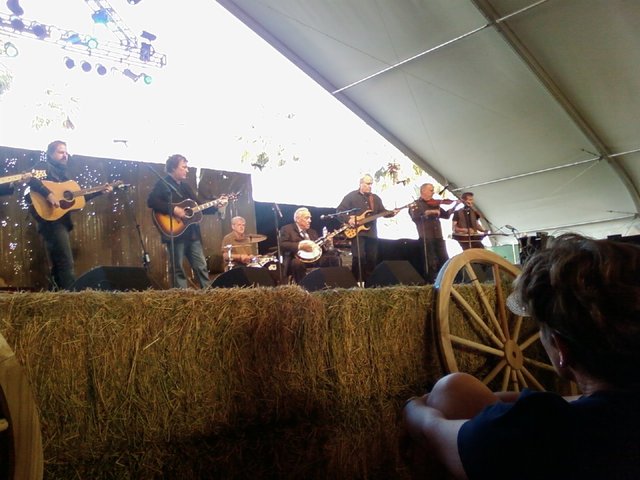 We were in the second row for the Duhks:

But back to the front row for Ricky Skaggs:

And for Hot Club of Cowtown:
(During their set, I asked my mom if she was happy with our choice to see Elana James' wicked fiddle playing. "We could be watching Kid Rock on a screen right now," I suggested. My mom rolled her eyes.)
We weren't front row for Dale Watson, who closed out the weekend for us, but we were still pretty close. My most favorite moment of the weekend happened during his set, when an old man asked a cute, itty-bitty blonde to dance. She leaned over to her boyfriend, his arms covered in tattoos, to ask his permission. "Absolutely!" he replied, and later gave them a thunderous applause after their two-step. Super cute.
(Okay, I know Dale looks faceless in that pic, but do ya see that chandelier?!)
And, my momma and I got to meet Miranda Lambert. We didn't get to see her from the front row (we had to settle to watch her on the big screen), but Miranda was gracious enough to sign a CD for my Grandmother, who heard "Gunpowder and Lead" on my iPod and really liked it. I'm not sure that Grandma knows what that song's about, and I don't think I can legally reprint the lyrics here (if you aren't familiar with the song, I'm sure you can easily google the lyrics), but let's just say it's not exactly something you'd expect my almost 90-year-old grandmother to appreciate.